Malaga Fair 2017
The fair of Malaga 2017 will open on the night of Friday August 11 and last until Saturday 19. The date of August 19 is mandatory inclusion, as it commemorates the incorporation of the City of Malaga to the Crown of Castile by the Kings Católicos, that entered the city the 19 of August of 1487.
On 12 August, which is when the fair officially begins, there is also a pilgrimage to the Basilica of the Victory patroness of Malaga, that day make the urban road all the faithful dressed in their costumes, as well as carriages and horsemen , Accompanying the standard bearer of the fair to the sanctuary, all accompanied by a whole floral offering to fill the Virgin with color.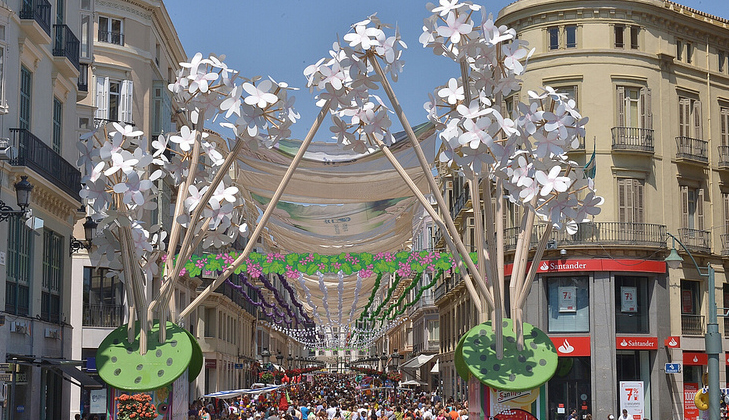 The fair, which opens with the proclamation and the fireworks on Friday night itself, adorns those days with music, color and fun, dividing day and night into two distinct areas.
The day fair, is in the center of Malaga, and the night is in the fairground located in the Cortijo de Torres, which is located near the city to prevent the noise disturbing the neighboring Malagueños.
In the daytime fair, when developing in the center, it makes it more familiar, since the same places of hospitality are adorned with colorful lanterns, music in the street and everything is more at hand.
The fair at night, is the classic fair of booths in an enclosure prepared for it.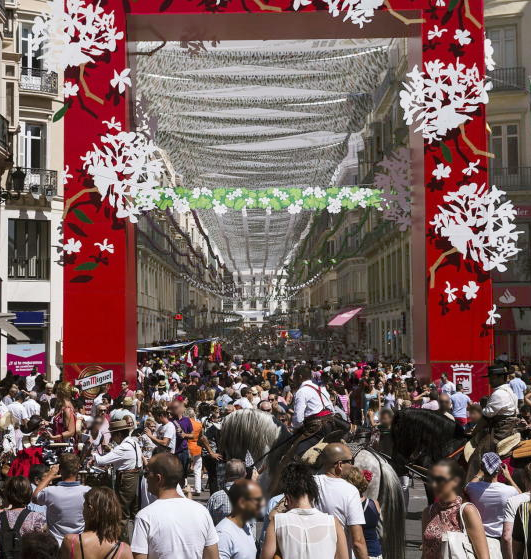 There we have the classic fair stands, the tombolas, the carriages, the popular Noria. Also the booths, there are some dedicated to the youth, other flamencas and others of the City council like the Own Municipal Auditorium that serves for the concerts of the moment.
Do not forget the bullfight that takes place in the Malagueta bullring, which always displays a careful sign with the most famous matadors, bullfighters and rejoneadores of bulls of the moment.
If all this we join the tourist offer offered by Malaga, its beaches, its monuments and museums make the Malaga fair is spectacular and not to be missed in any of its editions, because it will not leave you indifferent.
Program of the Fair of Málaga 2017
Friday, August 11
Chambao (Acto inaugural)
Saturday, August 12
Sample of Dances from Malaga and flamencos
Los caracoles
Danza invisible
Sunday, August 13
Sample of Dances from Malaga and flamencos
Manolo Sarría
Bertín Osborne
Monday, August 14
Sample of Dances from Malaga and flamencos
Rocio Alba
Málaga de Copla: Erika Lena y Antonio Cortes
Tuesday, 15 August
Sample of Dances from Malaga and flamencos
Aurora Guirado
Café Quijano
Thursday, 17 August
David Bustamantes
Friday, August 18
Sample of Dances from Malaga and flamencos
Justo
Soraya
Saturday, 19 August
Camela

Where is it located Autos Lido to rent a vehicle:
Office Malaga Center: Click here. Tlf.: + 34 952 23 78 04
Office Aeropuerto: Click here. Tlf.: +34 952 32 78 04
More information: www.autoslido.com